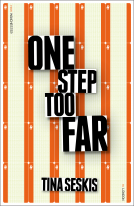 Author: Tina Seskis
Publisher: Manchester
Pub. Date: 4/15/13
Setting: England, present day
One Step Too Far chronicles the adventures of Emily, a middle-aged female lawyer who inexplicably has run away from her career, husband, family, and infant boy in Manchester, England to start a new life in London. In fear and trepidation, she rents a room in a seedy boarding house that surprisingly contains contacts that propel her into a well-paying job and a new career while setting her moral compass spinning. Her flat-mate, Angel, would like to be Emily's guardian angel, but is, at times, the opposite of angelic.
The puzzle to be solved is why Emily has run away. Clues include the interspersed back-story of her parents, her unfaithful husband, and her twin sister. The latter has always been the ultimate bad girl, in significant contrast to shy Emily. The reader thus may be amazed at Emily's new found audacity and deplore her descent into drugs and sex.
Tina Seskis' engaging writing style compellingly draws the reader into the heroine's mind and her experiences with her new acquaintances, leading to a surprise ending that many readers will greatly enjoy. This reader, however, was disappointed that the ending and its surprise twist were achieved by the author throwing in a curve ball after having played fast and loose with reality.
Kristi Lyn Glass, Gothic Journal